CSDS has recently assisted with the testing and evaluation of several new safety products developed by experts and clinicians in Brisbane. They have designed these innovative solutions to help protect medical staff and patients alike.
As the worldwide pandemic wreaks havoc on healthcare workers globally, many clinicians have been working on ways to reduce the risk to medical staff. These types of interventions could offer a solution to shielding the airway and allowing intubation with great potential to increase the safety of clinicians doing CPR and intubation on patients with COVID-19.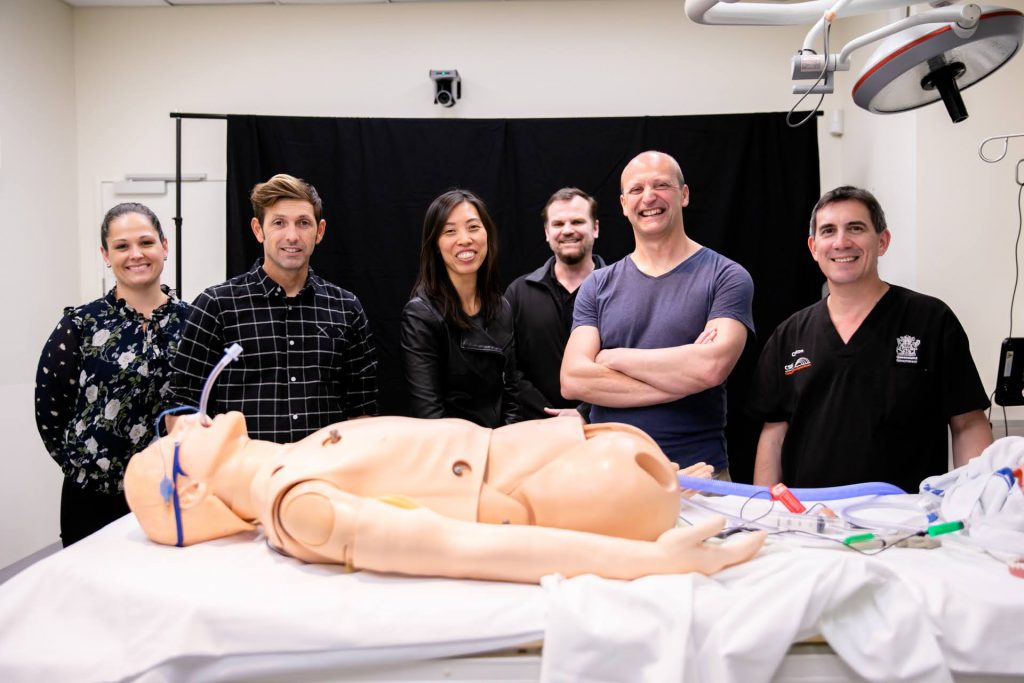 "CSDS is the best facility to do this in Queensland and we would like to see how we could work together in testing this device."

Julio Alonso (AMI)
We were eager to assist in this testing process, considering the improvements to the safety of clinicians and patients, to support innovative products developed for the COVID-19 pandemic and to help reduce potential harm to healthcare workers.
How we tested the product
CSDS and AMI created the right testing environment for their particular product. Pieces of simulation equipment were used to create a visualisation of aerosol and droplet spread with and without the face shield in place. This is important for testing to observe the true spread of infected droplets.
PPE 3D testing
CSDS assisted with another rapid simulation testing exercise during the early stages of the Pandemic.
With a worldwide shortage of Personal Protective Equipment (PPE), 3D printed face shields started to be produced and CSDS was engaged to assist Metro North Hospital and Health Service in testing their viability.
Face shields are a key part of PPE used by many workers (e.g. medical, dental, veterinary). They protect the facial area and associated mucous membranes (eyes, nose, mouth) from splashes, sprays, and the spatter of body fluids. Clinicians generally use face shields in conjunction with other protective equipment and are therefore classified as adjunctive personal protective equipment.
CSDS used specialised equipment to conduct the simulations. Then our research team provided a detailed evaluation and report on the outcomes.
These types of evaluations spiked CSDS's appetite for innovation again. Observing what our talented clinicians can achieve with their passion for change is inspiring. These cases are among many that CSDS are collaborating and assisting on and we are eager to discover more opportunities.
As we look to the future and what our 'new normal' will be, it is these types of rapidly prototyped and tested devices that will help empower our clinicians to practice safely.
We are here to support these initiatives and our hard-working healthcare staff. If you have a project/idea or need a place to test your medical prototype contact us.